With the high cost of computer software consumers are always looking for a cheaper way to keep their computers up to date.  Freeware sometimes comes with malware attachments and after downloading your computer becomes vulnerable to malware. I have found out that you really do not have to download anything for the pop-up malware to attack your computer. The scammers are finding ways to swindle money from hard working individuals.
Tech Support  Pop-up Scam
While using your computer a popup informs you that you have a West Nile virus on your computer. This popup comes with a loud noise and it is the center of the computer making it difficult for you to continue what you were doing. You are advised not to turn the computer off and you are given a number to call. When you call the number you will be told that your computer is infected and need professional attention.
These scammers are disrespectful and
if you call them and refuse to let them scan your computer or if you are not in agreement with what they said, they will use expletives and tell you nasty things.
If you continue the conversation, they will try to convince you that the computer needs software and they can sell you what you need. To install the software you will have to give them access to your computer. They will change your settings maybe install malware and leave your computer vulnerable. It is best not to call any of these scammers as calling them will not solve the problem.
When you are downloading free software, you should be alert and observe the different steps. Sometimes  there are different installs to the software and you have to be careful not to accept them.
Remove Tech Support Scam Pop-up From Windows PC
If you cannot close your browser right click the taskbar and then click Task Manager. You may also use
Ctrl+Alt+DelorCtrl+Shift+Esc.
Scroll through the list until you find your web browser, left-click to highlight it,  click on End Task.
Your browser should now be closed. Whenever you open your browser again do not allow your browser to open the previous page.
Scan your computer with Malwarebytes Anti-Malware
Malwarebytes Anti-malware  is a free software that uses the latest technology to detect and remove malware, including Trojans, rootkits, worms spyware and more. Malwarebytes  Anti-malware runs alongside antivirus software without conflicts.
All viruses detected by Malwarebytes  Anti-Malware will be shown when the scan is completed. To remove the infected programs choose Remove Selected.
MalwareBytes Anit-Malware will quarantine all the infected files and registry found.
If you are asked to restart your computer please do so.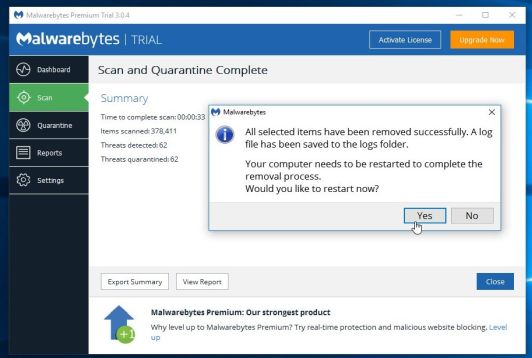 To ensure that you have safely removed all malware from your computer you should do another scan.
Beware of The Refund Scam
There is a refund scam that is tied to the Tech Scam. After someone has messed with your computer, you will get a call asking you if you are satisfied with the service you received. If you said no they will offer you a refund. They will ask for Credit Card, Bank  Account or any other way you may choose to receive the money. The objective here is not to refund your money but to get access to your information and drain your account. If you receive any such call hang up and report it to ftc.gov/complaint.
Beware of Microsoft Security Pop-up Scam
If malware can get past your antivirus you might want to change it in order to give your computer better protection. The premium version of Malwarebytes Anit-Malware offers protection from various kinds of malware. If you have to give someone access to your computer that person should be someone you trust. Never give remote access to callers who contact you by chance.
Scammers have found ways to divert calls so that their call appear to originate in the united States. It has become hard to screen calls because some numbers with United States area codes are coming from outside the country.
If you think a scammer has gained access to your computer, stay calm scan your computer and delete all the threats that come up. Maybe you might have to download a security software if you think the one you have did not give suitable protection. If you paid for a service that you think was a scam you can ask you credit card company to reverse the charges and any other charges that may be on the card that you did not authorize, remember to change your password.
Never give information to anyone who calls to say he is from Windows or Tech Support. Your passwords and personal information should be kept private and not given to anyone over the phone.
If you are interested in Affiliate Marketing, please check out the program at Wealthy Affiliate.  The training is Super and there is a Free Starter Program Try it before you Buy IT                 No Credit Card